I am tired of my life resembling a sine curve.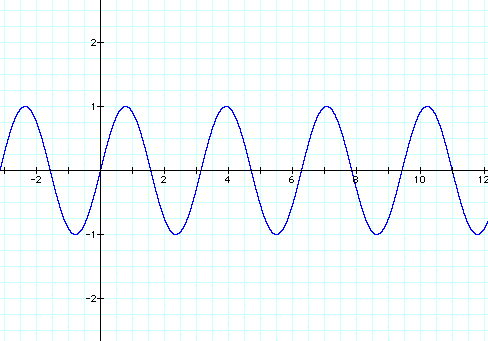 what's a sine curve, you ask?
Two weeks ago, we had a Superbowl Weekend Ski Extravaganza. Will, myself, Will's sister Amy, Will's cousin Chase, and our friend Deanna had planned a weekend get-away. We rented a house with a hot tub, pool table, and 42-inch tv for the weekend and I had procured cheap lift tickets to Copper Mountain and Winter Park. FUN.
Mother nature tried to foil our plans with SNOWPOCALYPSE. Chase's original flight was cancelled due to snow. Then his late flight was delayed because Micron's CEO crashed is airplane at the airport he was leaving from. Deanna had a stressful drive down from Boulder with snowy roads and I-25 closing down due to a wreck. But once we got people in our house, life was good. Saturday morning, Chase, Deanna and I took off for Copper Mountain. Will stayed behind to pick Amy up from the airport and then head up to the rental house.
Skiing was EPIC. The snow wasn't that great, but we had great fun. We closed the lifts down and headed to Tabernash and the rental house. Good dinner, fun conversation, a soak in the hot tub, and a roll in the snow. Although, I managed to cut my big toe open on something in the snow. Thank goodness I have thick calluses, as it didn't cut too deep.
Sunday was Winter Park with the whole gang. Amy hasn't skied in 13 years, Will is still pretty new on his snowboard, and Deanna brought her skis along (this is her first year skiing). We went as a group, hanging pretty much on a green run. I got a bit bored and taught myself how to ski backwards. I got pretty good and was actually skiing backwards faster than some were skiing forwards. It was a beautiful sunny day and everyone had a blast. We came home to an amazing beef roast (crock pot) from Chase's family ranch and ate yummy food and watched the Superbowl. Tried to soak in the hot tub, but the breaker tripped overnight (and Will couldn't get it to reset until morning), so it was a bit chilly. And then the breaker tripped again and wouldn't reset. So, we decided that was a sign and went inside. Chase and Deanna started some sort of flirty thing, which was cute and really sweet (and I'd be lying if I didn't say that it wasn't REALLY entertaining, but in a good way).
Monday, Chase, Deanna, and I went over to Mary Jane to ski some hard stuff for a while. Will and Amy hung back and we had arranged to meet them for lunch in Idaho Springs. Again, skiing was EPIC. Trees and bumps. And tired legs from 3 days of skiing. Then it was down to Idaho Springs for a late lunch at Tommyknocker, and then a lot of trying to stretch out the rest of the day. We all had so much fun, and with Chase leaving that night, I wanted to give Chase and Deanna as much time together as possible. So we windowshopped and hung out at a dive bar. Finally, around 4, we split ways. But before leaving, Amy dared Chase to kiss Deanna. No hesitation at all. In fact, he almost slipped on the ice in his excitement. And now they've been outed. Fun. Then back to Denver, hanging out at the Breckenridge tap room to wait out traffic, and then dropping off Chase at the airport. Really, this weekend was the most fun since I can't even remember.
Then Tuesday, Amy was still at the house, planning on flying up to Idaho to see their dad that night. (We placed Carl in hospice care a month ago). Then Will got a phone call from hospice. Carl's heath was declining and he likely had days to live. We went from EPIC fun weekend to sadness and heartache.
Carl died on Wednesday afternoon (Feb 8th). Amy and their aunt (Carl's sister) were with him. We flew out on Saturday. Funeral was last Monday. This is our 5th loss in 12 months. Today marks the anniversary of Grandpa's heart attack, which was the first of the losses.
I think we've paid our dues for sad things. I want only good things for now on.