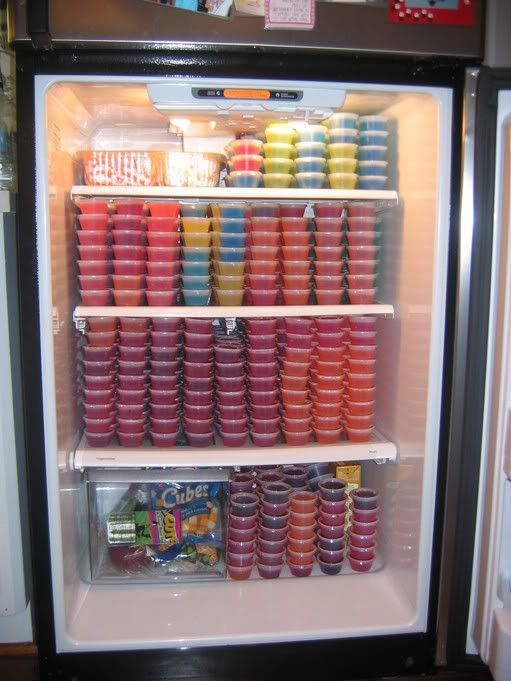 Consider this a PSA for all those random hits I get for people searching for "jello" on the internet.
1,000 jello shots. Keep in mind this is a full-size refridgerator. The top and bottom shelves were just cheap vodka. The 2nd shelf was the "top shelf" shots. Blue rasperry with coconut rum. Lime jello caprihanas. Lemon jello w/Crown. Everclear jello shots. (lets see how many search engine hits I get from this post!) Orange jello with vanilla vodka was my f-a-v-o-r-i-t-e! I got there at 6:30 to help set up. The house was jam-packed, and we really didn't even know quite a few of the people that showed up. I did see several people from school I haven't seen since I was up there. One girl walked up to me and said "I remember you from aerobics on campus in Fall 1997." Which made me wonder what the hell I did to her to cause her to remember me. She claimed to remember me b/c she had the same kind of car - only I never drove to campus.... Turns out, when I was the Butte HS JV swim coach in 1994/95, she was one of my swimmers. Which made me feel much better about her remembering me. For some reason, I don't like being memorable. I always assume it was b/c I was a bitch or did something embarassing.
This was one of those parties where you lose all track of time - because you're having so much fun talking to people. Talked to Will maybe 4 times all night long (he left early). Oops. Spent more time talking to his friend (and I guess now MY friend) Ken (above). Got home at 4 AM, mainly b/c I was playing car-shuffle getting one of Will's friends home safely. Woke up at 1 PM, went to the beer store for home-brew supplies, spent all afternoon making beer - then off to a friend's b'day party at a club downtown.
Methinks I ought to go thru some sort of detox program for the next week or so....